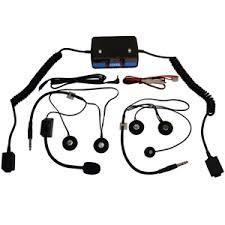 Terratrip Terraphone open face Profesional intercoms set T032E
$37500

exc. GST

$375.00

exc. GST

exc. GST
---
---
Professional Amplifier V2 (T036)
Features
Two volume controls
Powered from car battery
Noise cancelling microphones for improved sound reproduction
2 way radio connection with radio isolation switch
AVC (auto volume control), eliminates 100% of amplified background noise
Limiter, automatically reduces maximum amplified noise for as short period. If you shout, the other person will not be deafened, the electronics temporarily reduces the maximum peak of amplification.
External Connections
Connection for telephone via Bluetooth adapter (optional adapter T030)
Connection to  interface with 2 way radio (optional radio wiring kit T038)
Audio output socket for MP3 recorder (recording pace notes) or video camera
Audio input, for music or other audio devices
Headsets
Non helmet practice headsets for crew communication on road sections or when preparing pace notes
open face noise cancelling headsets
Accessories available separately
Full face noise cancelling headset. Part No T034
Open face noise cancelling headset. Part No. T035
Practice headset (none helmet headset). Part No. T037
Bluetooth telephone adapter. Part No. T030
2 Way radio kit. Part No. T038
Peltor helmet adapter Part No. T040.
Stilo helmet adapter. Part No T040A.
---
We Also Recommend
---