STILO ST5 FN 8860 CARBON HELMET SA2020
$2,60700

exc. GST

$2,607.00

exc. GST

exc. GST
---
---
The latest Stilo ST5 FN 8860 Carbon helmet is constructed from the very best moulded autoclaved carbon and unlike the other helmets in the Stilo range this 8860 version is solid carbon for high strength and light weight. This, together with the use of an EPS (expandable polystyrene), combine to achieve a very low weight helmet with extremely high safety standards (meets the latest FIA 8860-2018 approval).
Electronics and side ports: Deleted for optimum weight saving
Earmuffs: Certified for track use as they offer excellent isolation from external noises. They are removable and not fitted with speakers, which are not permitted on circuit: communication is always carried out through ear plugs. The pressure on the head from the earmuffs can be adjusted by changing the special foam rubber pads (supplied) positioned between the earmuff and the helmet.
Double Shell: Two different shells: one for small sizes (XS, S, M and L-59) and one for large sizes (L-60, XL, XXL and XXXL).
Optional: Front spoiler, rear spoiler, air intakes, visors, tear-offs.
Improving upon the previous ST4 (which is still a very good helmet), the ST5 model is lighter, uses a smaller shell, has increased vision with a visor which lifts fully out of line of sight, is more comfortable, has better aerodynamics, has better ventilation and uses a new visor locking clasp which can easily be operated with just one hand. Another important first is the large size helmet now uses the small shell size which in turn means more competitors fit into the smaller, lighter and more aerodynamic small shell size.
Ideal for use in single seater / formula racing the helmet is supplied as standard with a clear full size visor with a centre locking pin providing the most secure locking at high speeds and easy operation even when wearing gloves.
Stilo ST5 FN 8860 Carbon - This helmet designed to be the lightest possible so it has no radio electronics or drinks ports, The removal of the side port gives the helmet a sleeker, more compact profile. Includes factory fitted FHR (Hans) posts. 
If electronics are needed please consider the ST5 F 8860 Carbon helmet.
Snell SA2020 & FIA 8859-2015 Approved
Size Chart: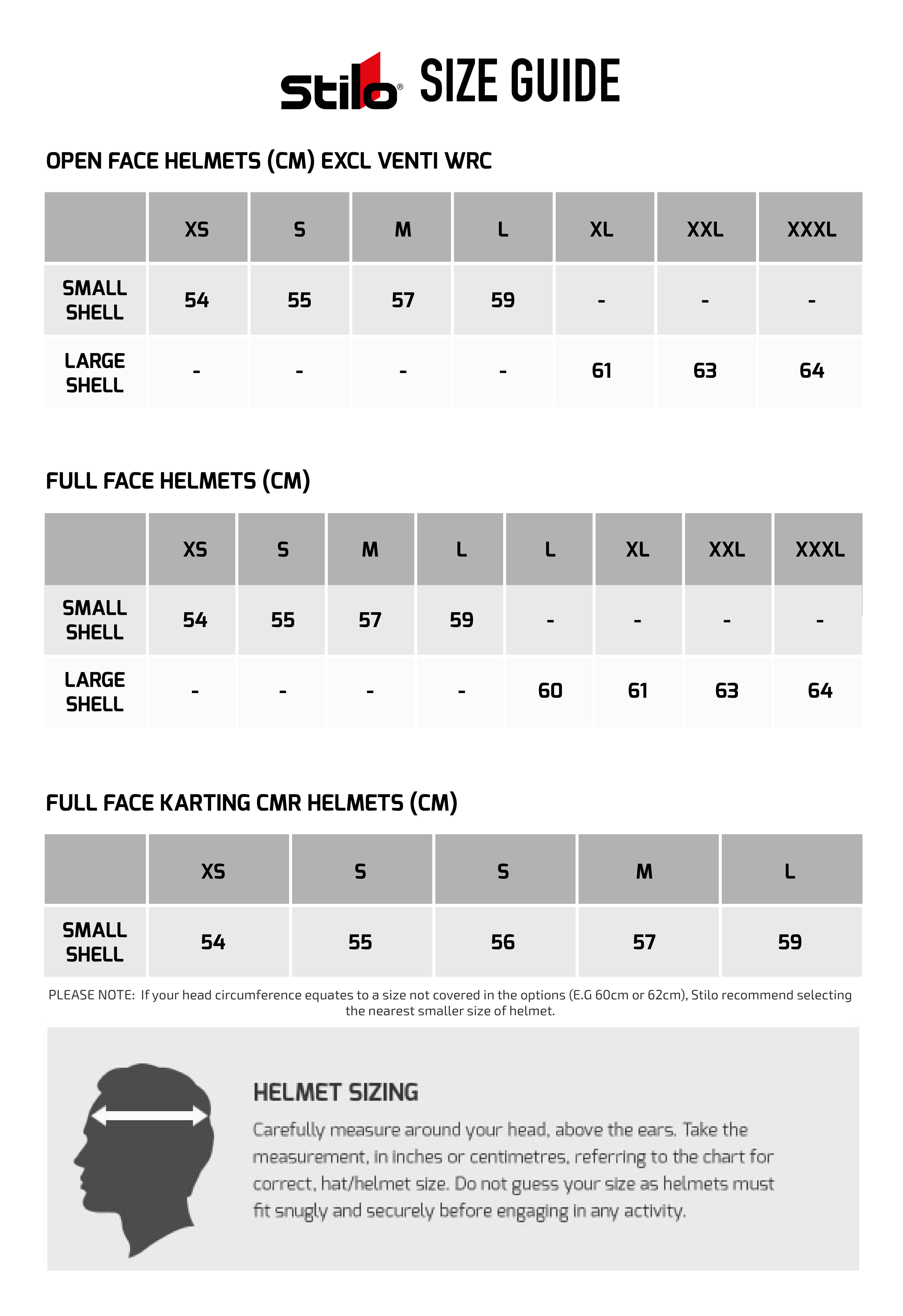 ---
We Also Recommend
---