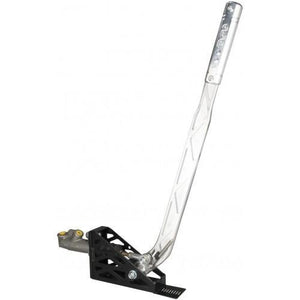 OBP Pro-Drift V2 Lockable Aluminium Billet Handbrake longOBPHBV2L0A1L
$36500

exc. GST

$365.00

exc. GST

exc. GST
---
---
Pro-Drift V2 Lockable Aluminium Billet Extra Long Handled Hydraulic Handbrake for Drifting and Rally.
Part No: OBPHBV2L0A1L
Kit Contents: 540-600mm Extra Long Lockable Handbrake Lever and Box, Clevis and Master Cylinder (can be supplied with either .625, .7 or .75 cylinder, if no preference is made we will supply a .625)
The all new Pro-Drift V2 Hydraulic Handbrake is a master class in functional design, engineering and manufacture. The Aluminium Billet Grip is easily adjustable so you can change the length of the handbrake to suit your driving style. It has also been designed so you can use the same unit as either Vertical or Horizontal.
V2 Pro-Drift Handbrake Benefits:
Super light weight aluminium billet lever & grip
Aircraft grade aluminium
Extremely strong
Horizontal and Vertical hydraulic handbrake in one
Adjustable 60mm Lever Length
Pivot on oil impregnated bearings
Hi Quality ball joing connection
Looks amazing
Drifting and Rally driving requires extensive use of the handbrake, which can show weaknesses in standard cable type handbrakes. The hydraulic system eliminates the weaknesses as in the standard cable type handbrakes.
The hydraulic system connects into the brake line that runs to the rear calipers and requires a lot less force to completely lock both rear wheels when needed. A hydraulic handbrake is used by drivers to lock up or break loose the rear wheels when they want to Drift the car sideways or spin on the spot. Rally drivers regularly need to spin 180 degrees "on the spot" when they over shoot an intersection, or need to turn very hard left or right and there's not enough wheel lock to achieve this. The hydraulic handbrake is not used to stop the car.
A hydraulic hand brake can be added into the rear brake line system without changing the original mechanical handbrake setup. obp Motorsport design and manufacture all these units in our own well equipped factory based in England. These Hydraulic handbrakes are constructed out of lightened steel with a Black powder coat finish carrier and Billet Aluminium Handle and Grip, giving you an extremely strong product that will last a life time.
These systems are for competition use only. Please visit our ebay shop or our web site obpltd.com to see hundreds of more products and find how obp can assist you in the future.
---
We Also Recommend
---