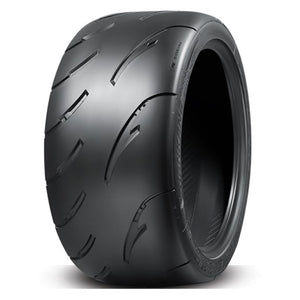 NANKANG 225/45/15 AR1
$27900

exc. GST

$279.00

exc. GST

exc. GST
---
---
The AR-1 is a DOT approved competition tyre looking to be a faster, more refined cousin to the already high performing Nankang NS2R track and drift tyre. The development of the AR-1 included a 15% increase in sidewall strength (compared to NS2R) to further enhance stability, and features Nankang's improved N17 compound (80 Treadwear, tread depth of 5.5mm) to offer consistent performance and shorter warm up times.
While the AR-1 boasts impressive performance on the track it is also DOT approved. Set to position itself in amongst the greats of the track tyre market, the AR-1 is well suited to the track enthusiast who is hunting lap times.

FEATURES:
Special inner angled pattern has been designed to improve water drainage efficiency for excellent handing on wet road conditions.
Special bevel pattern design for improved tyre stiffness.
Large block at tyre shoulder for improved tyre stiffness and traction on curved roads.
Wide center ribs for improved steering performance and precision.
Optimized tread with wider contact patch for the best stability at high speed driving.
Unique semi-slick compound shorter tyre warming time means the tyre reaches effective working temperature quicker, and improves gripping performance.
---
We Also Recommend
---