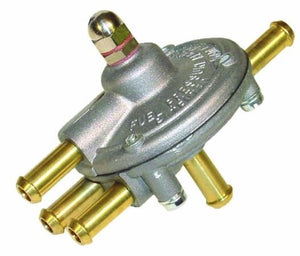 FPR010 Malpassi Fuel Regulator - for Turbo carburetor engines
$16500

exc. GST

$165.00

exc. GST

exc. GST
---
---
Adjustable Malpassi Fuel pressure regulator, supplied as original equipment on Lotus turbo cars fitted with Dell'orto DHLA carburettors.
Can also be used for reducing injection pump pressures from 60psi to 5psi.
Placed inline before a Petrol King regulator this unit can be used when converting a fuel injection vehicle to using carburettors.
This unit has 5 pipe connections:-
High pressure fuel in
Fuel return to tank
Turbo air pressure in or leave open to atmosphere in non-turbo applications
Low pressure fuel out to carburettor(s)  (1 or 2 connections depending on regulator version)
Fuel pressure adjusting screw & locking nut
Output Fuel Pressure:- 5psi + Boost Pressure (Adjustable)
Ratio:- 1:1
Width:- 105mm
Height:- 80mm
Weight:- 198gms
---
We Also Recommend
---