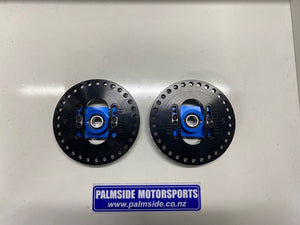 Ford Escort Adjustable top suspension mounts - front pair
$42500

exc. GST

$425.00

exc. GST

exc. GST
---
---
FORD ESCORT CAPRI ADJUSTABLE  TOP-MOUNT
Price is for a pair.
Spherical bearing Top mounts.
Adjustable (eccentric) Fixed (concentric)
Precise top suspension body location.
Caster/camber adjustment.
Positive steering location.
New lighter & strengthened design.
Solid Billet HE 6062 aluminium.
High angular (22000lb) Loading Goldman  precision 20mm race bearing .
Supplied with sleeve nuts & step down spacers.
Hard anodised to 35 microns.
MK1 strut will need to use 12mm spacer and you will need to drill spacer out to fit strut top pin
Mk2 strut will need to use 14mm spacer and you will need to machine strut top pin down to suit
MK2 - late small hole - these will not fit
---
We Also Recommend
---