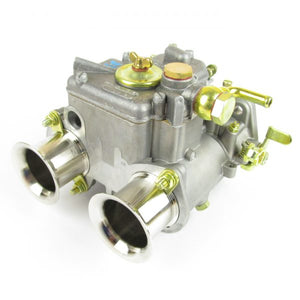 Weber 40 DCOE 151 carburettor
$92500

exc. GST

$925.00

exc. GST

exc. GST
---
---
Genuine Weber, made in Spain, not a cheap Chinese copy!
Jets may be changed on purchase but will incur a charge.
Gauze type filters for the top of the factory Weber can be purchased separately and do not come with the carbs.
This carburettor has a cable operated fuel enrichment starting mechanism (choke) fitted.
Fitted with standard 38mm long trumpets
Factory jetting- 30mm chokes -115 mains - F11 Emulsion tubes - 200 Airs - 50 pump valve - 45 F9 idle jets - 40 pump jets - 1.75 needle float valve
Each carb is fitted with a std Lotus type lever (part number 45048.007), for a pair you will also need to purchase the mating lever adjuster (part number 45048.005).
---
We Also Recommend
---