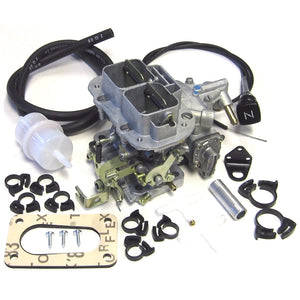 32/36 Weber DGV Carb with manual choke Kit
$59500

exc. GST

$595.00

exc. GST

exc. GST
---
---
Genuine Weber 32/36 DGV replacement carburettor kit for Ford Capri, Cortina and Granada 2.0L fitted with 32/36 DGAV.
Replaces auto (water operated) choke with more reliable manual mechanism.
Jetted to suit 2.0L engines.
Kit includes:-
Weber 32/36 DGV carburettor.
Choke cable and fitting kit
Water hose by pass kit
Fuel pipe and return to tank adaptor.
In line fuel filter
Manifold heat spacer/gasket
Fitting instructions.
Standard jetting is:-
26mm Primary venturi (fixed)
27mm Secondary venturi (fixed)
140 Primary main jet
140 Secondary main jet
F50 Primary emulsion tube
F50 Secondary emulsion tube
165 Primary air corrector jet
160 Secondary air corrector jet
30 Pump exhaust valve
60 Primary idle jet
50 Secondary idle jet
50 Pump jet
2.00 Needle valve.
---
We Also Recommend
---